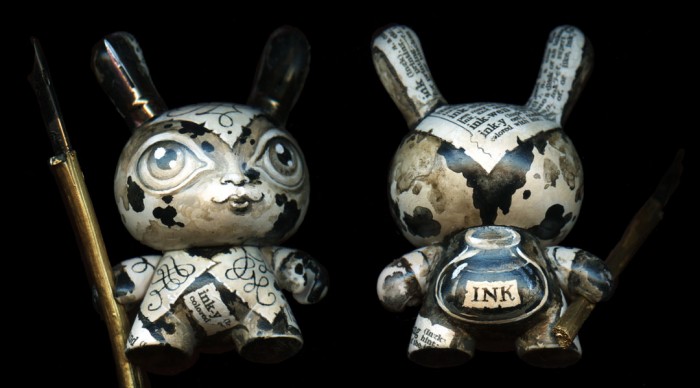 I'm no journalist, but I am an ink-stained wretch! I love to write & draw with dip pens, especially my beloved flexible crow-quill, Hunt 108. It gives a lovely responsive line with hairline thins & gorgeous juicy thicks, but it does have a ferocious tendency to spatter. My fingers, my desk, & pretty much everything around me tend to be bespeckled most of the time, much like this fellow. ;-)
This custom Dunny was a commission, but the client allowed me free rein with concepts. (A wonderful treat, I must say!) I set to sketching & as usual the act of drawing brought forth a flurry of ideas. In this case the shape of the torso reminded me of old-school ink bottles, which made me think of calligraphic flourishes & spatters. The client chose the sketch (along with the one for Ultramarine) & thus Inky was born!
I had to do the flourishes with acrylic & fine brushes, though, because the pen didn't play well with vinyl. It was quite a challenge getting into the tight corners!
It's hard to tell from this dark scan, but Inky holds a dip pen made of a poppy stalk handle topped with a fallen-soldier 108. (They do tend to wear down quickly, so I go through them by the dozen.) His ears/horns are cut-down nibs as well, I forget which sort as I found them in a box of rejected nibs. (Yes, I'm a bit of a hoarder… but see, I needed them!)
The GIF below shows Inky in process. The text is printed out on archival tissue, which conforms better to the Dunny's contours than regular paper. It's devilishly fragile, though!