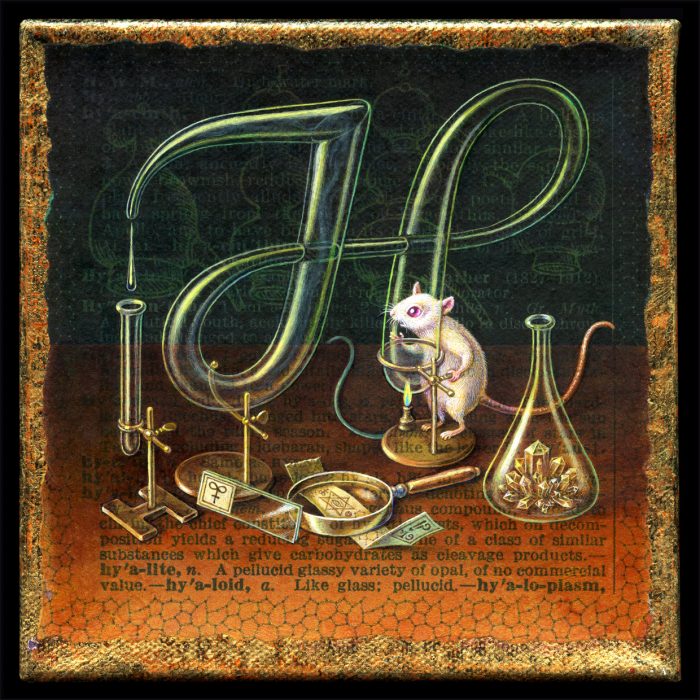 The last of this week's words, hyaloid, sent me into a nostalgic reverie of my father's chemistry lab at Duke University, which I remember from my childhood as a magical place full of mysterious vessels & devices, as well as odd smells & occasionally odd people. I found it fascinating, but also a bit frightening, possibly because I was often warned to be careful.
I felt as timid & curious as the little lab rat in this painting, gazing glassy-eyed at the experiments in progress in this decidedly non-academic laboratory. My father's lab definitely did not feature alchemical symbols among the molecular models, but there were crystals & microscopes and all manner of wonders that inspired my imagination. And although I never followed in his scientific footsteps, it's no accident that I named my Etsy shop Curious Art Lab.
So thank you, Dad. And to thank those of you who have followed this week of A.Word.A.Day illustrations, I've created a special coupon code: AWAD2019 will offer you 20% off of any order of $100 or more, through 13 December 2019. That way you can get all 5 of this week's prints for the price of 4, but of course you can choose anything else you want from my shop. I love the people I meet through A.Word.A.Day, & I'll be forever grateful to Anu for inviting me to wander around in his logo-laboratory!