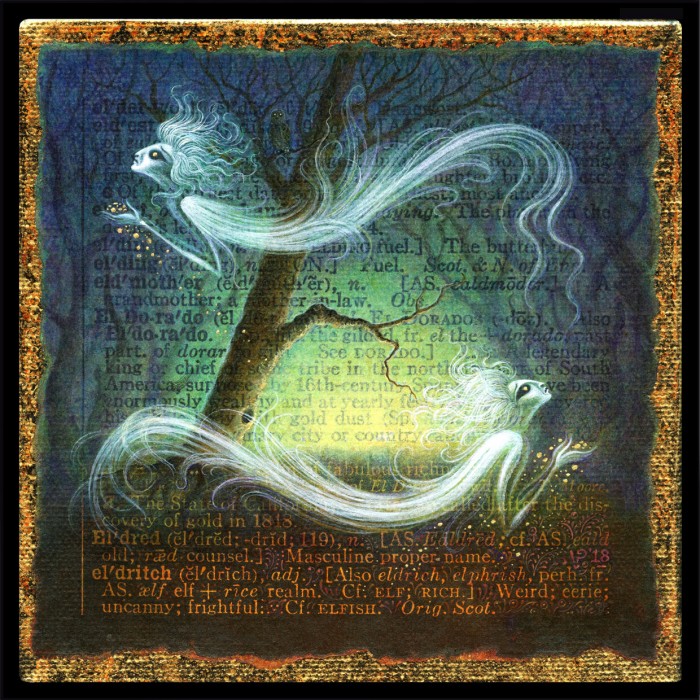 Tuesday's word for A.Word.A.Day is "eldritch." I have a bit of a Gothic streak, so this one definitely intrigued me. I sketched out the two ghosts & the background forest in advance, but as I painted over the dictionary text, I was additionally inspired by the alphabetical proximity of El Dorado, the legendary land of gold. I thought perhaps these spirits had been greedy in life, & had made their fortunes at the expense of others. Thus they are condemned to an eternity of obsessively striving to hold on to their gold, while it trickles endlessly away….
So I used metallic gold paint to render the gold dust, as well as their avidly glowing eyes. Unfortunately I didn't capture that part of the process, but click here if you'd like to see a very boring, but mercifully short, video of me in the process of painting ghostly hair!
And the finished painting & prints are in my Etsy shop, of course!
To continue the theme of serendipity, while I was painting this I was looking for some ambient music to inspire me, & quite by chance the site I was using recommended a band called Palmer Eldritch! I thought their music was interesting, if a little forceful for the mood of this piece. Researching the band, I found they were named after a Philip K. Dick novel called The Three Stigmata of Palmer Eldritch, so I listened to the audiobook. Frankly, it wasn't my cup of tea for many reasons, but it did explore some interesting themes.
You just never know where the rabbit hole of words will lead you. There may be many dead ends, but then again you may discover a golden wonderland!